Environmental awareness
Meishai embodies a philosophy of less is more. We carefully consider what is truly necessary in our products and their surrounding elements, every step of the way from production to packaging to the delivery experience for our customers. We believe that by using fewer resources, and by prioritizing sustainable practices, we can create a better future for ourselves and our planet.
We hope that Meishai and our customers can join forces to become more aware of what we use on our bodies and to buy better, so we buy less. A motto we love is: Have little - but the good stuff. That's the mindset we created Meishai with. Our commitment to sustainability is an ongoing journey, and we strive to continue incorporating sustainable choices into our brand, while supporting those who develop better and more sustainable solutions for us all.
All boxes and paper for shipment is 100% recycled and 70% reused. All plastic is made in recycle plastic. Our Meishai bags are an example of our commitment to sustainability. They are made from 100% cotton waste from the denim industry, providing an environmentally friendly alternative. We take pride in using materials that were once waste and giving them new life.
Less plastic, more product.

We believe in using less plastic. That's why we have chosen to use half-liter bottles to reduce our plastic consumption. It was a natural decision for us, it's something most of us use continuously. Our consumers buy bigger so we can produce less. Together we can make a change.  

Packaging and shipping

We use minimal packaging to ensure that our products are protected during shipping while minimizing our environmental impact. 

Recycled

At our company, we take pride in using sustainable materials for packaging and shipping. Our boxes and paper are made from 70% reused and 100% recycled paper. We've also found a plastic-free alternative to bubble wrap by using honeycomb-cut paper that not only protects our products during delivery but also reduces waste.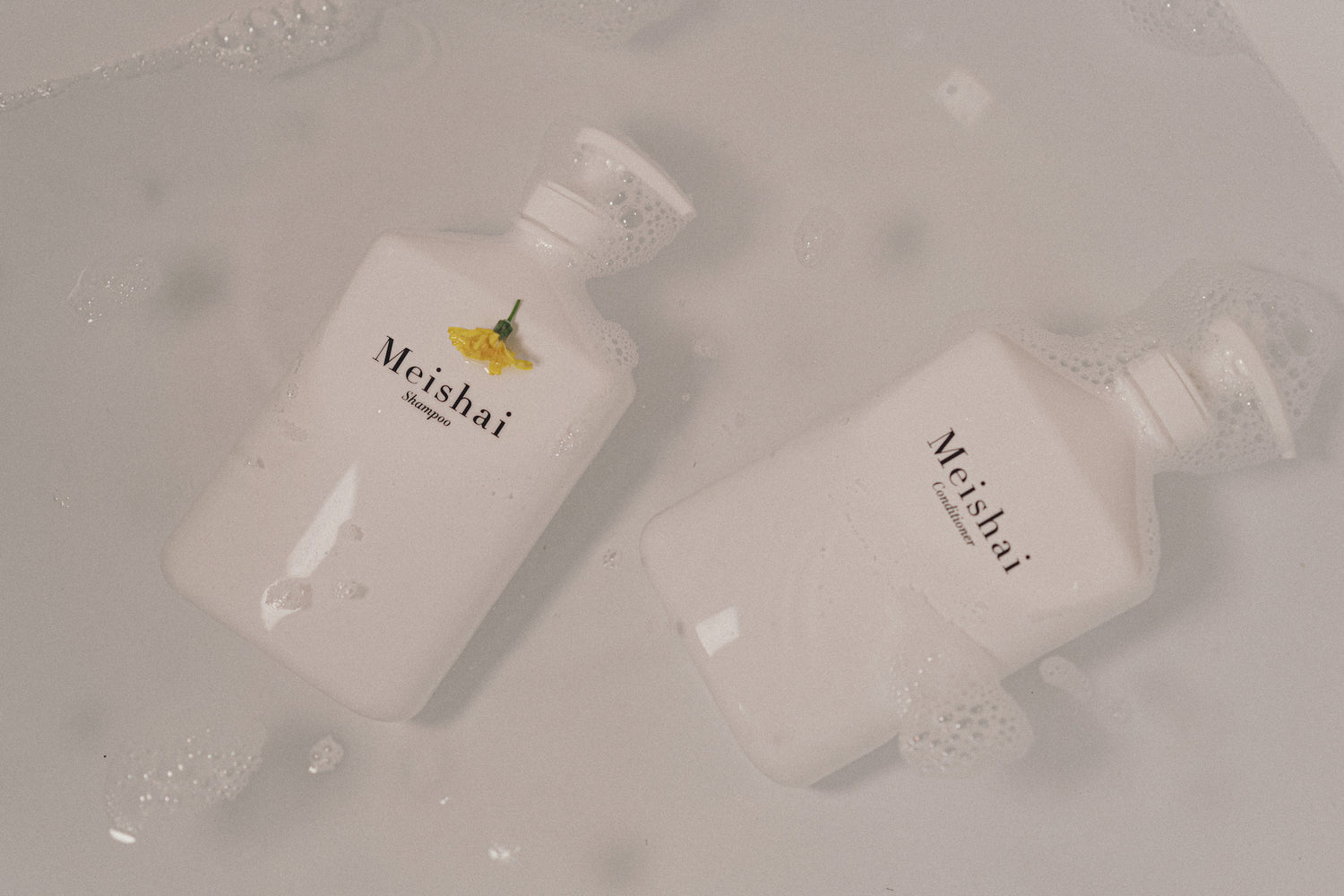 All products are made from recycle plastic. We have created a guide on how to recycle properly. Meishai shampoo and conditioner is made in half liter bottles in order to limit our plastic consumption and is created with a pump, to help avoid waste of the product.
Check out our guide on how to recycle your Meishai bottles ↓
Collapsible content
Meishai recycle guide

1. The plastic bottles must be cleaned completely. The plastic is easier to reuse and recycle this way, so make sure there are no leftover shampoo or conditioner in it. We recommend adding a small amount of water and shaking it, this way ensuring that all shampoo or conditioner is gone.

2. There is a difference between hard and soft plastic, so make sure to separate the bottle, by taking off the pump.

3. Important! Discard the bottle as plastic. Once you have cleaned and separated the bottle in each component, you are ready to dump the bottle into the plastic container. Super easy and simple, but it makes a huge difference.